Our Results
Lessons in the Post has been incredibly successful since we started. We have produced excellent exam results but more importantly have given all our pupils a boost in confidence, a strong work ethic, excellent motivation and the study skills necessary to succeed in later life.
Success in 11 Plus Exams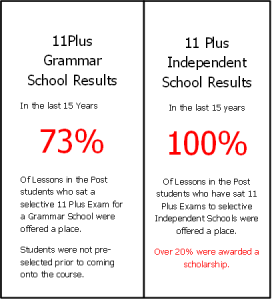 Scroll down for a selection of the schools (Grammar and Independent) that we have been successful with through the 11 Plus Exam.
Success in improving children's performance.
While of course, it is easy to judge success where we are dealing with exam performance, it is more difficult to relate success at helping children simply perform to the best of their ability.
What we have done is try and illustrate it from the experience we have with children's performance:
Children who are performing below average in Maths and/or English.
In most cases (except where there are extreme learning difficulties) we would expect to be able to move children from a below-average performance to an average performance or above-average performance. The vast majority we would expect to see performing at an average level or better within six months to a year of working with us. In many cases where children's performance is being held back by a lack of confidence results can be even quicker and quite dramatic.
From the Mother of a boy who came to us with average Maths but very low scores in English. He was below average in Spelling, Comprehension and Reading. After three months positive signs were coming through, after six months his English scores had moved ahead to being above average. His Spelling score moved from being a year and a half behind to being six months ahead.
 "I am honestly so happy that I am quite tearful. He has worked hard but actually has enjoyed it and he's happier because he knows he is no longer behind. He seems to have come on in all sorts of ways but most importantly I can really see that his core English skills are so much better. His writing is better, he reads more and his teachers are frankly amazed by the transformation. For the first time he seems confident with his English"
Children who are performing at an average level or slightly above average level in school.
Unfortunately in both State and Independent schools there are children who are in the middle of the pack who could do better but are drifting. These are some of the children we have had the most remarkable success with. It remains thrilling every time we can unlock a child's full potential and help them to fly.
From a Mother of a girl whose performance was better than average but still middle of the road who was drifting at school. Within a year she was in top sets for English and Maths and her assessments showed she had moved to a position where she was two years ahead in all subjects (the level expected of Grammar School children)
 "I really didn't realise that when we started your Lessons they would have such a profound effect. I suppose I imagined my daughter might improve and she has done beyond my wildest dreams, but the biggest effects have been in her confidence levels and her desire to just get on with things independently."
Bright children who could benefit from a focussed learning package to enhance what they learn at school.
Many bright children will call on us to help prepare them for the rigours of a tough selective 11 Plus entry exam to a top Grammar or Independent School. We do however have lots of families who don't live near enough to suitable schools and have good comprehensive provision nearby. In these cases we help them ensure that their children remain stimulated and remain at the very highest levels of performance.
From the Father of a boy who came to us with very good assessment scores. He was worried his son had moved beyond the level he was being taught at in school and wanted to make sure he got into top sets in his local comprehensive school. We took him on in the middle of year five and gave him the sort of preparation most Grammar School entrants would do. This took him beyond the material he would have covered at school but enabled him to do very well in his SATs exams and start off in the top sets for both Maths and English in his comprehensive school.
"Thanks for all your help. My son has really benefited from the lessons you have given him, and I have learnt quite a lot too! We were very pleased with his SATs exam scores and are looking forward to him going to his Comprehensive School."
(NB All parents should be aware that especially in areas where there are no Grammar Schools or limited Grammar School provision, getting into the top sets for Maths and English will give your children the best chance of getting the best education they can do from their Comprehensive School. Often it will be on a par with some Grammar Schools.)
A selection of the schools we have sent children to:
Grammar Schools 
Essex
Chelmsford County High School for Girls
King Edward VI School Chelmsford
Colchester County High School for Girls
Colchester Royal Grammar School
Southend High School for Girls
Southend High School for Boys
Westcliff High School for Girls
Woodford County High School for Girls
London
The Henrietta Barnett School
The Latymer School
Queen Elizabeth's School Barnet
St Michael's Catholic School
Dame Alice Owens
Kent
St Olave's School
Dartford Grammar.
Simon Langton Grammar School for Boys
Surrey
Tiffin Girls' School
Wallington County Grammar
Wallington High School for Girls
Sutton Grammar School
Wilson's School
Wiltshire
Bishop Wordsworth's School
Gloucestershire
Berkshire
Buckinghamshire
Sir Henry Floyd School Aylesbury
Aylesbury High School for Girls
Dr. Challoners
West Midlands
King Edward VI School Camp Hill
King Edward VI School Handsworth
Bishop Vesey's School Sutton Coldfield
Yorkshire
Ripon Grammar School
The North Halifax Grammar School
Independent Schools
| | |
| --- | --- |
| London | St Paul's Girls School, Colet Court, *North London Collegiate, *City of London Boys, *City of London Girls, Francis Holland School, Channing School, Queen's Gate School, King Alfred's School, St Helen's Northwood, Northwood College |
| Home Counties | *Felsted School, *Brentwood School, *New Hall School, Chigwell School, Bancroft's School, Braeside School (all Essex), *Bishops Stortford College, Haberdashers' Aske's Boys' School, St Christopher School (all Herts), *Whitgift School (Croydon), Salesian College (Farnborough), Hampton School (Kingston), Kingston Grammar School. RGS(Guildford), Reading School, Eton (pre-test) |
| East Anglia | *Ipswich School, The Royal Hospital School, Woodbridge School (all Suffolk), The Perse School (Cambridge), King's School (Ely). |
| Midlands | Oundle School, *King Edward's School Birmingham, *Northampton School for Girls, Dame Alice School (Bedford). |
| The South and South West | King Edward VI School (Southampton), *West Buckland School (North Devon). |
| The North | Manchester Grammar School, The Grange School, Cheadle Hulme School, Stockport Grammar School (all Cheshire). |
| Wales | *Kings Monkton School (Cardiff). |